Exclusive
EXCLUSIVE DOCUMENT: Brooke Burke & David Charvet Being Sued In Theft Case - Read the Lawsuit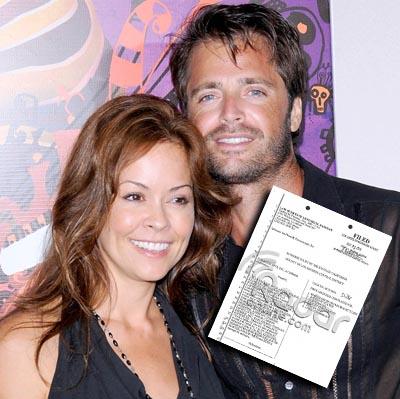 Dancing With The Stars co-host Brooke Burke and her live-in beau, former Baywatch hunk David Charvet, are being sued for allegedly buying stolen merchandise, RadarOnline.com was first to report.
EXCLUSIVE DOCUMENTS: Read The Lawsuit
A lawsuit was filed against the couple, August 12, 2009, in Los Angeles Superior Court, and now you can read it on RadarOnline.com.
According to the court papers, Burke and Charvet allegedly bought $70,000 worth of appliances for their Malibu home in 2007 from EuroConcepts, a high-end Los Angeles design showroom, headquartered inside the Pacific Design Center.
Article continues below advertisement
Burke and Charvet, along with several other people, are named as defendants in the lawsuit.
As RadarOnline.com first revealed, Burke was questioned in a videotaped deposition, in which she denied writing or authorizing checks to be made out directly to a woman accused of masterminding the theft.
The alleged loot the couple snared from former EuroConcepts sales employee Zalfa "Zee" Halaby included an outdoor stainless steel gas BBQ, fridge, freezer, microwave and a six burner range.
Now it has emerged Burke, 39, is dancing with the legal drama herself.
According to the lawsuit, "Defendants paid cash to Halaby and in some instances, checks made payable to Halaby."
The court filing continued, "Plaintiff is informed and believes that the named Defendants, other than Halaby, knew that the merchandise they received was either stolen, hypothecated and/or transferred without the knowledge of Euro and received said merchandise as a result of an agreement between said Defendants and Halaby."
Article continues below advertisement
A new video clip of Burke being questioned has also surfaced where she denies knowing that Halaby was cheating her employer.
The former model even admits that Charvet, who she is not married to, handled most, if not all, of their financial dealings with Halaby.
The frustration of being quizzed about the case was clearly showing on Burke.
Sanford Passman, attorney for EuroConcepts, told RadarOnline.com he believes Charvet knew what he was doing.
"I absolutely believe that Charvet knew what was going on," Passman told RadarOnline.com.
"As for whether Brooke knew, who knows?
"She very well may have turned over all the financial dealings to David but my problem with that is that she went to EuroConcepts, she had Halaby into her house on more than one occasion.
"Maybe David was running the show but how she couldn't have found out I find hard to believe."