AUDIO: David Arquette Tells Howard Stern There Was No Pre-Nup; Still Loves Courteney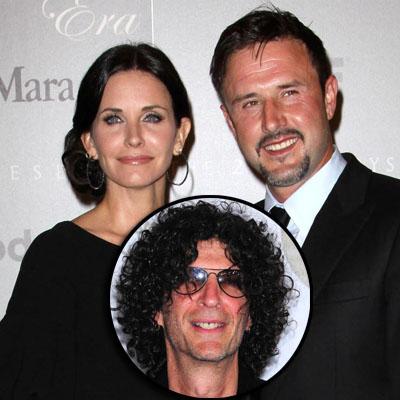 David Arquette returned to the scene of the crime Wednesday - The Howard Stern Show - where the easygoing actor emotionally vented once again about his break-up with Courteney Cox earlier this month.
Stern, like last time, got the dirt out of the Scream star, who admitted he's hooked up with another woman since the split with Cox - a sexy blonde Australian. (As we previously reported, the first girl he slept with was bartender Jasmine Waltz, a Megan Fox look-a-like who's been romantically liked to Ryan Seacrest, Jesse McCartney and Paris Hilton's ex Doug Reinhardt.)
Article continues below advertisement
"I'm pretty sure I'm up sh**'s creek right now," the boyish film star said. "After the first girl I slept with, I was crying. I know that's not very sexy. What it does lack is that emotional love that I always have with Court."
Arquette also let out another gem: there was no prenuptial agreement between he and Cox.
Stern replied, "Can you count to 50 million dollars?"
Arquette said he has no ill feelings toward Cox's Cougar Town co-star Brian Van Holt, who she might be involved with in the wake of the split.
MORE ON:
The Howard Stern Show
"Everyone has their problems but she is incredible," he said of Cox. "Any guy would be blessed to be with her. I don't have any hard feelings for anyone. This is life and we are just going through it publicly."
Arquette's interview starts below.
Listen to more on YouTube
RELATED STORIES: