Christina Applegate Shows Off Baby Bump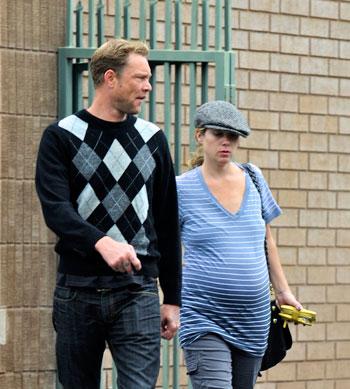 Christina Applegate proudly showed off her impressive baby bump on Monday during an outing with fiance Martyn LeNoble.
She and LeNoble- who cutely wore matching sneakers- were seen stopping in at Cedars-Sinai Research for Women's Cancers in Los Angeles. The actress is a breast cancer survivor.
LeNoble kept a protective hand on Appelgate as they waited for their car.
Last week, she chatted with CNN's Dr. Sanjay Gupta about, among other things, her pregnancy.
Article continues below advertisement
"As you can see I'm hot flashing a little bit, but that happens a couple times a day. It has been such a wild ride," she said.
"I adopted a macrobiotic diet when I was diagnosed with cancer two years ago. It's one of which I adhere to about eighty-two percent of the time. I gotta have pizza every once in a while, you know! You gotta go off and enjoy these things – that's part of the mental, physical, spiritual, emotional, scientific part of it. It's all interconnected. But I've been able to stick it fine. As far as gaining weight, I'm right on track."
MORE ON:
Christina Applegate