BREAKING NEWS: Drunk & Naked Charlie Sheen Trashes Hotel Room - Then Hospitalized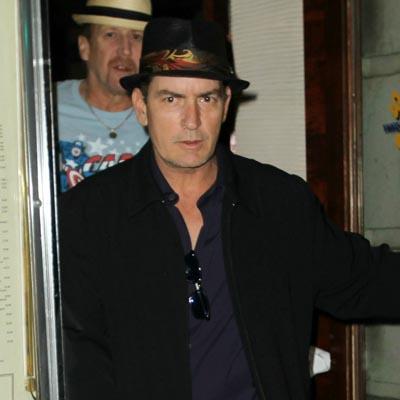 Charlie Sheen trashed his room at New York's Plaza Hotel Tuesday morning, RadarOnline.com has learned, as New York police reportedly found the actor drunk and naked after responding to reports an "emotionally disturbed individual" was causing a disturbance in the legendary establishment.
Sheen, had reportedly thrown tables and chairs around the room, as well as doing damage to a chandelier, before police responded to the call. He was taken to New York Downtown Hospital via ambulance for psychiatric evaluation.
Article continues below advertisement
The 45-year-old bad boy, who admitted to authorities he'd been "out partying," had been out with a prostitute, according to our source, who told us Sheen accused the hooker of stealing his wallet, triggering the expensive outburst.
"Charlie was back to being Charlie and had a hooker," our source said. "The prostitute says Charlie was using cocaine ... she said after he did the coke, he flipped out, couldn't find his wallet and accused her of stealing it."
NYPD cops confirmed to RadarOnline.com they're investigating an incident involving Sheen, but they would not go into details.
A security spokesman at The Plaza Hotel was remaining tight lipped about Sheen's run-in at the famous establishment, saying, "We cannot make any comments about our guests as we respect the confidentiality of people who stay here."
The hotel – which is a famous haunt of the rich and famous – which was formerly owned by Donald Trump before El Ad Properties bought it in 2004 for $675 million. Today the Plaza has 282 hotel rooms and 152 private condo hotel units and is managed by Fairmont Hotels and Resorts. Suites at the hotel start at $1300 per night and run to $5000 a night – in 2007 an apartment in The Plaza was sold for a record $50 million.
Article continues below advertisement
As RadarOnline.com previously reported, the former husband and wife arrived in New York Saturday and took their kids, Lola and Sammy, to a production of Mary Poppins at the New Amsterdam Theatre Sunday. Richards is also staying at the hotel, the paper reported, but in a separate room from her ex.
The TV star's already had quite a up-and-down year -- including two cars thrown off a cliff and the fallout from his Christmas Day attack on estranged wife Brooke Mueller in Aspen, Colorado, for which he spent 30 days in a rehab facility as part of his plea deal.
We spoke exclusively with Aspen Chief Deputy District Attorney Arnold Mordkin, who oversaw the case against Sheen in the domestic violence incident.
"If it is proven that Charlie Sheen did commit a crime, that could trigger a violation of his probation," Mordkin told us exclusively. "However, there are many other factors involved."
RELATED STORIES: