Angelina & Kerry: Let's Get Ready To Rumble!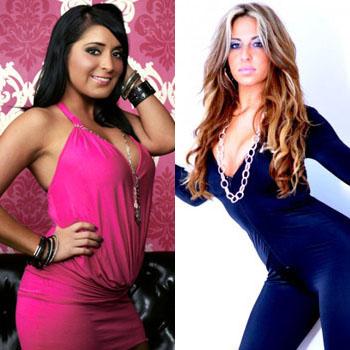 Jersey Shore's Angelina Pivarnick and Kerry Schwartz from VH1's Frank the Entertainer in a Basement Affair will settle their ongoing beef once and for all in a BIG Bang Celebrity Wrestling match December 4 at Trump's Taj Mahal, RadarOnline.com has learned.
As RadarOnline.com previously reported, the craziness between the two women began when Angelina refereed a Celebrity Boxing match that Kerry fought in earlier this month. It ended with fans catapulting things at the MTV star.
Article continues below advertisement
After the bout, the two ladies got into a real fight in a bar.
"Kerry and Angelina have had an on-going rivalry," a source who witnessed the altercation tells RadarOnline.com.
And of course the two girl couldn't just call it quits after that. Not a chance. "Instead of fighting in a bar the girls have agreed to take it to the ring," the source adds.
Classy, indeed! Oh but wait, we're not done yet. ""And the best part is that they're trying to get Danielle Staub to be the referee," says the source.