Weekender Fall Collection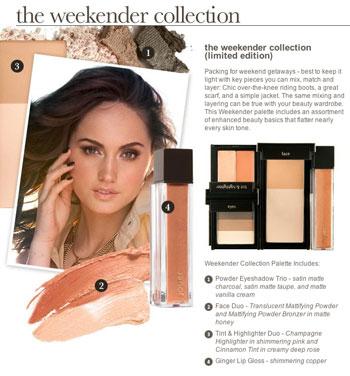 We recently discovered Jouer costmetics, when a publicist sent us the new "Weekender Fall Collection," a collection of everything you'd need, from trio of neutral eye shadows, in cream and medium and dark brown; a pressed bronzer and sheer powder duo (the powder section looks ultra-light, but it really is sheer); a peachy-pink cream tint and lighter toned highlighter for cheeks; and a shimmering bronze-hued lip gloss. And the handy jigsaw contraption means you're carrying just one little make-up compact, but for that teeny evening clutch, you can snap off any of the products to bring with you for a touch up. Clever, eh?
Article continues below advertisement
Besides being portable and practical, the colors are the prefect palette for almost any skin tone and easy to mix and match.
Priced at $58 and available Sept. 1 at Henri Bendel and at jouercosmetics.com, it makes the perfect companion for a Fall Getaway, that is, if Hugh Grant is not available.