VIDEO: Ines Sainz Reveals 'Embarrassing Moment' In NY Jets Sex Harassment Controversy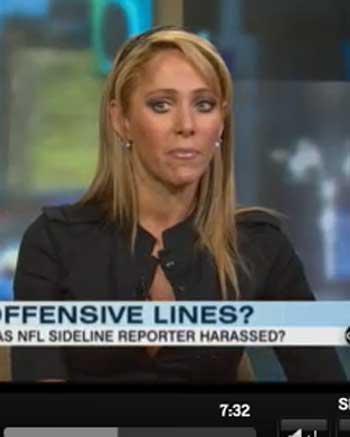 Ines Sainz, the reporter who said she was sexually harassed while covering a New York Jets practice over the weekend, spoke with Good Morning America Tuesday about the ensuing controversy that has become the talk of the sports world.
Sainz told GMA host George Stephanopoulos that she wasn't uncomfortable during the actual practice, where players and personnel reportedly began razzing the 32-year-old TV Azteca reporter, even focusing plays in her direction to get a better look at the former pageant queen.
Article continues below advertisement
Sainz said the "embarrassing moment" occurred when she was in the locker room to interview quarterback Mark Sanchez, when she began hearing catcalls and crude comments from others present, but ignored them. (She subsequently send out a Tweet detailing her embarrassment with the situation.)
While Sainz said she "didn't feel like she was in danger," she said it was the worst treatment she'd received in a locker room setting.
Sainz said that while she didn't report the incident or complain about it to anyone, NFL officials asked her Sunday to explain what happened. She said that the team's owner Woody Johnson (father of late socialite Casey Johnson) also called to make sure she was alright.
Asked about the scuttlebutt that her clothes may have been too provocative (she was wearing a blouse and tight jeans), Sainz said she's been reporting for nine years and logged more than 250 interviews without her garb being an issue.
Sainz, a native of Mexico City, said of of the current NFL investigation hovering over the incident: "I know that if they need to punish someone, they're gonna do it."
Sainz was present at Monday's Jets game, but did not venture into the locker room, staying in the press box instead.
Jets coach Rex Ryan broke his silence on the matter following the game, saying, "We never want anybody to feel uncomfortable around our team."