Stars Get Red-y For Fall In The Best & Worst Fashions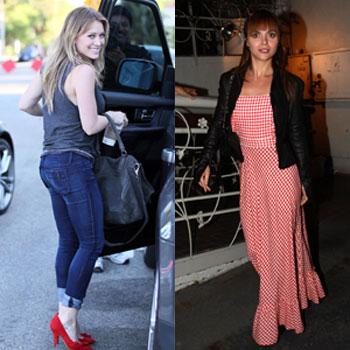 Hilary Duff is clearly enjoying newlywed bliss! The gorgeous young star was absolutely glowing in Beverly Hills on Tuesday, spending the afternoon with her new hubby in totally sexy style. Hilary showed off her toned and taut physique in skintight jeans, which she cuffed Sarah Jessica Parker style, and a grey tank, adding a blast of color with her fire engine red heels.
Christina Ricci also wore red---but had us seeing it as well! Showing off some new warm highlights, the actress wore a red and white gingham farmgirl frock to dinner with her beau in Los Angeles. Was she inspired by her 4th of July tablecloth?
Article continues below advertisement
LeAnn Rimes knows that you are not supposed to wear all-white getup after Labor Day, so she enjoyed the last few days of summer in all white duds. Natalie Portman looked super sophisticated in Venice, Italy, wearing a navy Miu Miu strapless frock, while Jessica Alba donned Valentino Couture.
What rocker shocked suburban Detroit with his wacky fashion, and whose outfit was a little too wild for the friendly skies? Check out the gallery in Style and find out.