Pig Out On A Slice Of History: Authentic Charlotte's Web Sketches On The Block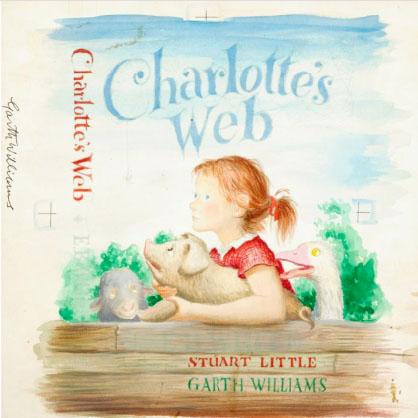 Whether you're 16 or 60, you've probably read the book Charlotte's Web. The 1952 E.B. White classic -- which chronicles the adventures of Wilbur, Fern and Charlotte -- is a cultural institution as synonymous with Americana as baseball, apple pie and Old Glory.
"What the book is about is friendship on earth, affection and protection, adventure and miracle, life and death, trust and treachery, pleasure and pain, and the passing of time. As a piece of work it is just about perfect, and just about magical in the way it is done," the New York Times said in its original review of the book almost six decades ago, a statement that still stands in 2010.
Article continues below advertisement
Buy A Hunk Of History: Elvis Locks For Sale
Now, Heritage Auctions is offering a once-in-a-lifetime opportunity to own a piece of history, as the revered auction house is putting more than 40 illustrations from Charlotte's Web -- including the original cover art -- up for sale separately in their October 15 auction.
Heritage Auctions' Barry Sandoval said it best, when describing how deeply the iconic book and its art (drawn by Garth Williams) are woven into the fabric of our nation's literary quilt.
"There are few people born after 1950, maybe even 1940, who are not intimately familiar with E.B. White's timeless story or with these amazing illustrations," he said. "The same cover image has been used for 58 years, and this may be the most-printed cover illustration of any book by an American author."
For more info on this one-time-only chance, check out http://fineart.ha.com.