PHOTOS: Sexy Tennis Stars Makes Center Court A Catwalk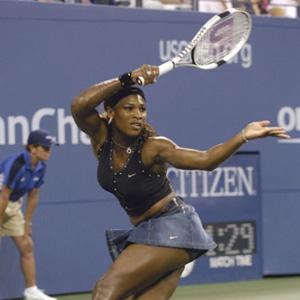 The U.S. Open has made a splash this year with many of the most popular female tennis pros using center court as a platform to show off the latest in fashion.
Top seed Caroline Wozniacki made headlines after sporting an especially short Stella McCartney skirt.
"For me it's important to feel good on court and of course to look good," Wozniacki said. "Then I can focus on my tennis at 100 percent."
The 20-year-old Danish pro is the face of McCartney's athletic line and even goes so far as to match her fingernail polish to her outfits.
Article continues below advertisement
One of the sports' most famous names, Venus Williams, has her own line of tennis clothing called Eleven that features sequined tops, short form-fitting skirts and has been known to show off more than just a little leg.
Nadia Petrova, 28, prompted ESPN2 announcers John and Patrick McEnroe to call out her candy cane striped dress last week during a match against Andrea Petkovic as "too loud" and said "she really needs to seek out some help."
Another notable name in tennis, Maria Sharapova, took advantage of the sports focus on fashion by signing an eight-year, $70 million sponsor agreement with powerhouse Nike.
"Everything about the Open, from the size of the stadium to the night matches, adds a little more drama," creative director for Nike Global Tennis Janice Lucena said.
"We like to use that in our designs and to go a little further from tradition."