PHOTOS: Provocative 'Don't Ask, Don't Tell' Art Exhibit Opens In L.A.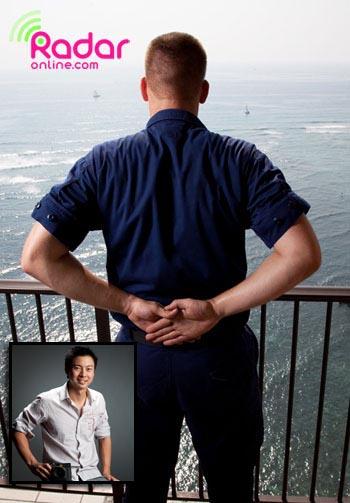 Lady Gaga isn't the only one making a statement about the military's ban on openly gay men and women serving in the U.S. armed forces.
Less than a week after Gaga arrived at the MTV Video Music Awards in Hollywood with her 'dates' of several openly gay servicemen and women, an equally provocative art exhibit is opening in Los Angeles to shine light on the push to repeal 'Dont Ask, Don't Tell'.
In 2009, artist Jeff Sheng photographed several closeted service members and shared their stories in his groundbreaking book 'Don't Ask, Don't Tell: Volume 1.'
Article continues below advertisement
Now, for the first time, Sheng is showing his unique collection of photographs at the Kaycee Olsen Gallery in Los Angeles.
The exhibit opens Saturday, September 18 and runs for the next month. Recently RadarOnline.com sat down with Sheng to ask him about this heartfelt and haunting exhibit.
Radar: What inspired you to embark on this project?
Jeff: "It first began around 2008 when I received a few e-mails from closeted service members asking if I had ever considered working on a photo series on 'Don't Ask, Don't Tell.' These service members had seen some of my other photo projects that dealt with activism and identity, particularly my series 'Fearless' on 'out' LGBT high school and college athletes. I was intrigued with the challenge of creating a portrait of someone without revealing their identity, and decided in early 2009 to really work on this series in earnest. When I first started, I didn't expect that eventually I would fly over 100,000 miles and travel to over 25 states in a span of two years to complete the series."
Radar: Since most gay servicemen and women are closeted, how did you find them for the project?
Jeff: "I found a lot of volunteers through word of mouth and by gaining the trust of individuals one by one. Many closeted service members have other closeted friends in the military, and once people realized that I was trustworthy, and that I took my photography very seriously, I got more willing participants. I also posted pictures on my website www.jeffsheng.com early in the stages of my project so people could see quickly the kinds of photographs I was taking, and information on how to
Article continues below advertisement
contact me if they were interested."
Radar: Looking at the pictures, there's almost something sad about them - seeing people literally living in the shadows. What was your intent in the way you photographed the men and women?
Jeff: "In many of the photo shoots, I asked the service members how they wanted to be portrayed and then I showed them test images on my digital camera during the photo shoot so they could approve the images. The shadows and lighting were at first more a way for me to aesthetically hide their images - though it also added a lot of intensity and drama to the images.
"As the series progressed, I realized that the words 'Don't Ask, Don't Tell' could also just apply to their military service - the idea that we have been fighting in two wars for almost a decade yet its something we don't talk that much about in society - that connection resonated with me. I also began to have service members reenact gestures from war in their pictures to mix up the compositions of the images."
Article continues below advertisement
Radar: Can you share any of their personal stories? What did they tell you about serving in the military, and the fear of being outed?
Jeff: "I just self-published the second photobook from the series, 'Don't Ask, Don't Tell: Volume 2' where I included many personal stories and quotations from these service members as text. Some are just heartbreaking. The first page of the photo book is a copy of an e-mail from the partner of a service member who was in Iraq. While her partner was abroad and serving, she had to undergo treatment for breast cancer and was essentially cut off from the person who she needed the most because of the policy. I am amazed at the amount of turmoil and grief 'Don't Ask, Don't Tell' has on relationships and families, and the fear many of them have about losing their careers because of who they are.
"I was also very fortunate to have Congressman Patrick J. Murphy - the lead sponsor of the repeal bill in the U.S. House of Representatives write a foreword for the new book. Activist David Mixner and Major Mike Almy also contributed to the photobook very touching writings on the issue (Major Mike Almy was in town last week as one of the discharged veterans escorting Lady Gaga at the VMAs) - all these various perspectives on the issue really make a strong argument that it's finally time to end this policy."
Article continues below advertisement
Radar: Some people might wonder why any gay man or woman would want to service in a military that discriminates against gays. Did any of them talk about their love of country and why they want to serve?
Jeff: "Many of these service members found military service to be the most patriotic thing they could do for the country, and felt that it was their duty to serve. Some also came from a long line of military families. Other did it for financial reasons, though not as many as I assumed at first. Most of them were just proud to be Americans and thought it was an honor to be in the service."
Radar: Did the gay servicemen and women say if they confided in their straight counterparts, and how they were treated?
Jeff: "Many of them have straight friends who know about their sexuality and help conceal their identities. On some of the photo shoots, I was able to meet some of their straight friends and roommates, who were incredibly supportive of me and the project."
Radar: Were the gay servicemen and women you profiled hopeful that 'Don't Ask Don't Tell' would be repealed?
Article continues below advertisement
Jeff: "Many seem to be much more hopeful now, than when I first started the series in early 2009. It does feel like we are slowly finally moving to a repeal, but it also seems like the full equality will take
some more time."
Kaycee Olsen Gallery is located at 2685 South La Cienega Blvd in Los Angeles.
The exhibit runs through October 23.
For more informaton, go to www.kayceeolsen.com
Jeff's 'Don't Ask, Don't Tell' series of book are available for purchase at www.dadtbook.com
Editor's note: Next week, the Senate is expected to vote on a Defense Department authorization bill that includes a provision to roll back 'Don't Ask, Don't Tell'. If passed, the Senate legislation would have to be combined with a smiliar bill that passed in the House in May, but even then, the policy would not be completely repealed. First, President Obama would have to certify a Pentagon review of how repealing "Don't Ask, Don't Tell" would impact troop morale. The report is due December 1, and the Defense authorization bill simply gives the Defense Department authority to act on its findings. To date, more than 14,000 service members have been fired under "Don't Ask, Don't Tell".