PHOTOS: Paris Hilton Gets Juicy In Maui; Goes On Twitter Tirade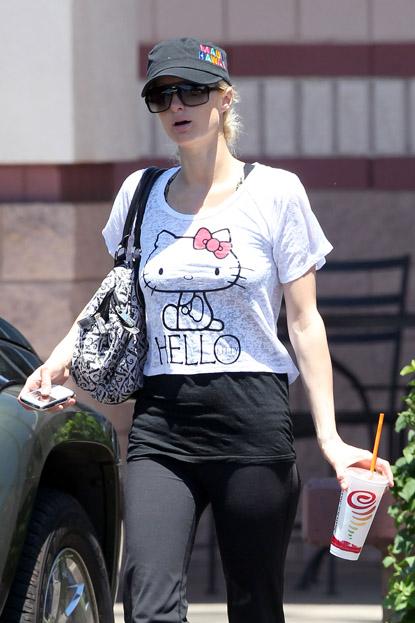 Hello Kitty, goodbye Maui.
Paris Hilton left Hawaii Wednesday, RadarOnline.com has learned, but not before grabbing a smoothie and getting a few things off her chest.
The socialite, who was leaving the islands to head back to Los Angeles, was spotted at a Maui Jamba Juice location with her hunky boyfriend Cy Waits as she wrapped up a late summer vacation.
While she went to Hawaii to get out of the hot media spotlight following her recent arrest, the heiress said she had no such luck, as she complained on Twitter about the presence of shutterbugs on the island.
Article continues below advertisement
"The paparazzi have been out of control in maui," she Tweeted Thursday. "We had to call the cops because they have been trespassing on our property all week trying to get shots. As well as chasing our car whereever we go and almost running other cars off the road. Its not only invasive and annoying, but dangerous as well.
"I flew to Hawaii to relax and get some privacy and they won't stop," she continued. "I am so sick of them and all these ridiculous rumors people are inventing, it's disgusting and very hurtful."
Whether she likes it or not, Hilton's been a hot topic since her August 27 arrest, when authorities in Las Vegas pulled over the black Cadillac SUV she was riding in with Waits, after smelling marijuana coming from the vehicle.
Subsequently, Waits was arrested on suspicion of misdemeanor driving under the influence of alcohol or drugs, while Hilton was arrested after police said they found cocaine in her purse. Hilton - who says the purse actually belonged to a friend - has since said she believed the cocaine was actually chewing gum.