PHOTOS: Johnny Depp & Keith Richards - Boys' Night Out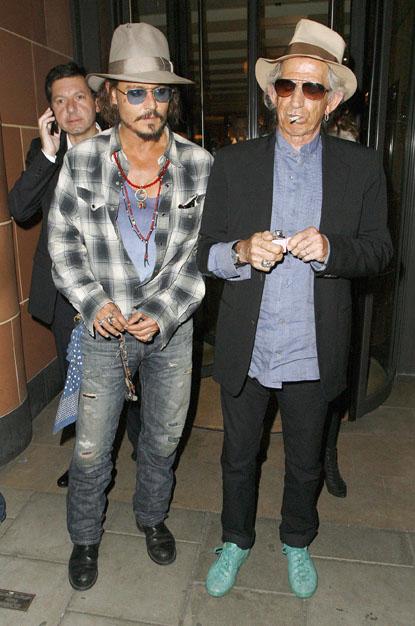 Johnny Depp hits the town with his 'Pirates' pal Keith Richards Wednesday night in London, and RadarOnline.com has the brand new pics.
Depp, 47, and Richards, 66, both sported similiar fedoras, shades, and their trademark grunge styles as they headed out to dinner.
Depp, who's currently reprising his role as Captain Jack Sparrow in the fourth Pirates Of The Caribbean movie, has said that he based many of his character's mannerisms on the legendary Rolling Stones guitarist.
Article continues below advertisement
Richards made a cameo appearance as Captain Teague, father of Depp's character, in the third 'Pirates' movie, Pirates Of the Caribbean: At World's End, released in May, 2007; Richards ended up winning the Best Celebrity Cameo award at the 2007 Spike Horror Awards for the role.
Richards is rumored to be making an appearance in the fourth 'Pirates' film, Pirates of the Caribbean: On Stranger Tides, which opens on May 20, 2011.
Meanwhile, Richards will release his autobiography, Life, on October 26th, giving an inside look at his childhood and legendary career with the Stones.