Parlor Hollywood: A Stylish Sports Bar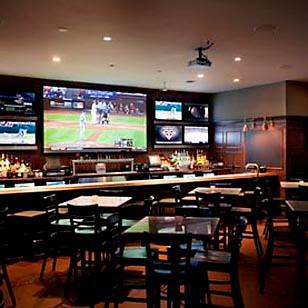 The official start of football season is right around the corner and for Angelinos looking for a new watering hole, a new stylish sports bar has arrived: The Parlor Hollywood.
The establishment is an offshoot of the original, still very popular Santa Monica location. However, creators Ike Pyun and Silas Gaither have taken their game up a notch with the new Melrose District location: the massive space has an array of venues (all dotted with multiple flat-screen TVs of course!) that range from a luxe living room feel, typical bar area, and an outdoor patio.
Article continues below advertisement
While there is always a steady stream of beer flowing (there are 20 varieties on tap and 30 different beers by the bottle), The Parlor distinguishes itself with a distinct, nightlife-ready sheen.
One part of the bar features dark wood paneling, tony leather couches lining the walls, dark wood coffee tables and various stylish chairs and ottomans. You can cheer for your team in full jersey and face paint regalia but at least you can do it with some classy flair. It's a sleek vibe that makes watching sports feel like an event worthy of slapping some heels on for (though flip flops are also welcomed!).
That new dimension to a sports bar might largely be due to co-owners Casey Keegan and Jim Saviano who are both nightlife veterans. Saviano is the former opening manager of Hyde Lounge. But not to worry sports fans, the place is still heavy on the TVs: there are over fifty around the place including 3 HD projection screens.
Now: on to the food.
The menu brings the best of the Santa Monica location with some new twists. The sliders (grab 4 for just $11) are delightful--- the Western (an onion ring, BBQ sauce, and American cheese) hits the spot and will keep you licking your fingers well after the food is gone!
For those looking to raise their culinary experience to a different level, The Parlor Hollywood also offers skirt steak with garlic parsley fries, blue cheese, and bacon butter as well as steamed black mussels with sake, lemongrass, ginger, chilies and grilled bread. There are also lamp chop lollipops and for those looking to watch their waistline, a simple sole with grilled asparagus.
Whether you are a die-hard fan or just their for the drinks and socializing, The Parlor Hollywood has something for everyone and does not disappoint!