Hot Wax, Soft Skin: Jimmy Jane's Afterglow Body Oil Candles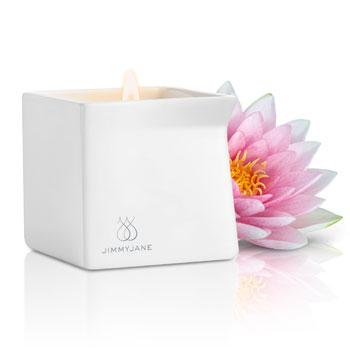 Ever have a candle that smelled so good, you wanted to rub it all over your body? Even if the answer is "no" you may have a change of heart when you light up one of Jimmy Jane's Afterglow Body Oil Candles.
Catwalk Claws At New York Fashion Week
We were skeptics when reps from the company explained the process to us. When solid, the formula can be used as a scented candle, but when the unique solution starts to melt into a silky oily, it can be drizzled it on the skin for skincare as well as massage.
Article continues below advertisement
Scared to pour candle "wax" on your body? The nourishing ingredients of the Afterglow Body Oil Candles include Jojoba, Shea Butter, Soy, Vitamin E and Aloe, all healthy and safe for your skin. And we promise---it doesn't hurt!
Lady Gaga Scores Fragrance Deal With Coty
Yummy scents include Cucumber Water (fresh and neutral), Dark Vanilla (you will want to eat it) and Pink Lotus (sugary sweet).
While Jimmy Jane has made a name for themselves by creating high-end erotic toys (Kelly Cutrone famously gifted Chelsea Handler the company's FORM 2, while on her show!) they also have a message line of ceramic massage stones, which are a perfect G-rated supplement to the Afterglow Candle!