Gaiam Calorie Coach G1: Pedometer For Women?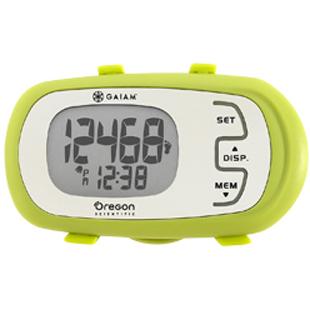 This handy dandy calorie counter is specifically designed for women, though why it wouldn't work just as well for a man is beyond us. Yes, it's small, though we'd argue it's not fashionable (green?) but who cares about that when you're working out? If you're serious about calories burned then you want a product that does the job, not a gadget that positions itself as "fashionable."
Article continues below advertisement
What we like:
Measures distance walked and time elapsed
Measures calories burned
Memory stores 7 days of walking data including steps and calorie data
Target feature measures progress toward and estimates time to reach goal
Step counter measures 0 to 99,999 steps
Digital 12 or 24-hour clock with weekday
Count up timer up to 99 hours, 59 minutes, 59 seconds
Clock with daily alarm
Batteries included
It can also be worn anywhere –even around the neck -- instead of the traditional belt-only model. $39.99 at Oregon Scientific.