Exclusive
EXCLUSIVE: Tiger Woods' Profanity Outburst A Family Affair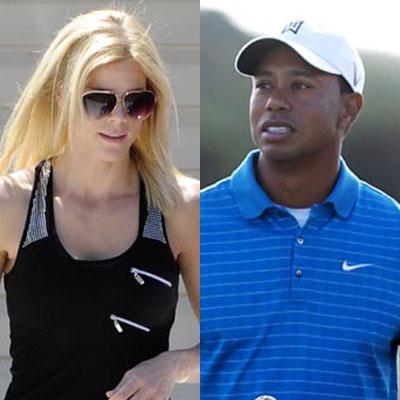 If you could collect one dollar from Tiger Woods every time he used a profanity, you'd have more money than his ex wife Elin Nordegren.
In February the golfing champ made a public pledge to clean up his act, including using less profanity on the golf course. But, as RadarOnline.com discovered exclusively, Tiger has fallen far short of keeping that promise -- even affectionately referring to his son as a "little sh*t" in public recently, according to an eyewitness.
Article continues below advertisement
While he's been known to drop the F bomb on live TV while golfing, Tiger was even worse away from the cameras, said one person who spent time with him recently.
While on the golf course in his private community of Isleworth, Tiger was with his two children, Sam and Charlie, plus a nanny and a male friend. He stopped to give a neighbor and another golfer pointers. His stream of expletives were then overheard by other golfers on the driving range.
"Tiger was watching a friend hit balls and when they hit a good one Tiger said: 'F*ck yeah' to cheer them on," an eyewitness told RadarOnline.com exclusively. "Every time someone hit a ball he used "mother (bleeper)" and "f*ck" while talking about the shots," the source said.
The driving range was crowded that day and his profanities were overheard by many of the golfers.
At one point, Tiger decided to show off his son's golf skills and called out "Charlie, come here," and gave his son a tiny club.
And it looks like Charlie has his dad's good golfing genes because the little guy, who is only a year and a half old, hit the ball pretty well!
Filled with pride, Tiger said: "Not bad for a little sh*t," And even though he clearly meant it out of love the people around him thought it was disgusting. His 3-year-old daughter Sam was also in earshot.
According to the source Tiger watched his friends hit balls for a while, cursing the entire time.