EXCLUSIVE: Paris Hilton Expected to Plead Guilty To Drug, Lying Charges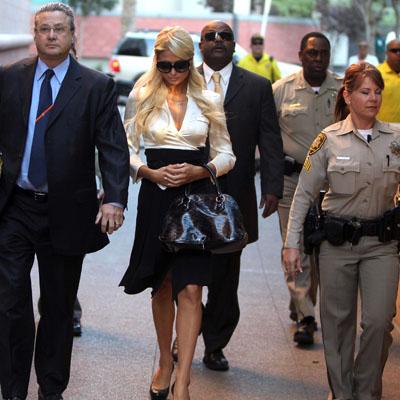 UPDATE: Paris has arrived to court
Paris Hilton is expected to plead guilty to two misdemeanor charges, drug possession and lying to a police officer, in a Monday morning court hearing in Las Vegas.
"Paris is taking responsibility for what happened," an insider close to the hotel heiress told RadarOnline.com. "She knows if she violates probation, she will be doing one year in the Clark County jail."
Hilton, according to the insider, will be in court for the proceedings, which will begin at 7:30 am PT and is expected to last less than 15 minutes.
Article continues below advertisement
Hilton, whose probation will also consist of substance abuse classes, "is learning from this experience and growing from it," the insider told us.
Hilton, 29, plans on making good on her recent indiscretions with charity work, the insider told us, as the Stars Are Blind singer "wants to give back to those who aren't as fortunate -- its very important to her."
Hilton's recent woes began on August 26 when authorities in Las Vegas pulled over the Cadillac SUV Hilton and her boyfriend Cy Waits were riding in, claiming they smelled marijuana. After Waits was taken into custody on suspicion of misdemeanor driving under the influence of alcohol or drugs, police said they found cocaine in Hilton's purse.
The incident marked the third drug-related run-in with the law The Simple Life star had this past summer, as she was stopped twice by police on suspicion of marijuana possession.
Stay with RadarOnline.com for developments in this story as they unfold.