Exclusive
EXCLUSIVE: 'Orange County Housewife' Tamra Barney's Husband Arrested For Domestic Violence - See The Mug Shot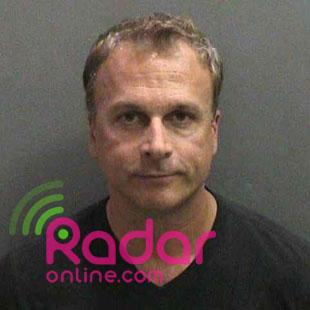 The husband of Real Housewives of Orange County star Tamra Barney was arrested early Tuesday morning on a domestic violence charge, RadarOnline.com has learned exclusively, and is still behind bars.
Tamra and her estranged husband Simon have been going through a bitter divorce since viewers saw their marriage meltdown on last season's The Real Housewives of Orange County. But it all seems to have come to a head -- literally -- when Simon was taken into custody in the OC on suspicion of throwing a dog leash at his wife.
Article continues below advertisement
"She said it was going toward her head," Jim Amormino, spokesman for the Orange County Sheriff's Department told the Orange County Register. "She threw her hands up to protect herself."
RadarOnline.com learned exclusively that the argument leading to the altercations was over a custody battle -- about their dog!
According to the OC Register, early Tuesday morning -- at 12:30 a.m. -- police arrested Simon for alleged domestic violence after Tamra claimed that he threw a retractable dog leash at his wife which apparently hit her when she arrived to their Ladera Ranch, CA home where Simon was taking care of the couple's dog.
According to reports, the couple's 10-year-old son Spencer opened the door for Tamra and as she walked inside the house Simon threw the plastic retractable leash, which hit her wrist.
It was only when Simon left the house that Tamra contacted the sheriff's department, and when authorities tracked him down shortly after the incident occurred he was arrested due to an emergency protective order.
"He was angry and threw the leash at her and hit her with it," a source with knowledge of the case told RadarOnline.com exclusively.
Article continues below advertisement
"Their kids were in the house and started crying.
"It was a bad scene.
Tamra recently moved into a new house. She now dates Eddie Judge and her relationship with her soon-to-be-ex is often acrimonious. But this time Simon went too far.
"The leash hit Tamra. She wasn't sure what to do," the source told RadarOnline.com. "But she knew she couldn't tolerate the violence. She called the cops."
Simon apparently texted her after the incident, and after he left her house, saying that the leash slipped out of his hands.
"He knew he had a problem at that point," the source said.
Simon was upset with Tamra because she planned a birthday party for one of their children at her new house. Even though she invited Simon, he was angry and felt the party should have been held at a "neutral" location.
Simon was taken into custody on $10,000 bail and is expected to appear in court Wednesday.