Exclusive
EXCLUSIVE: Mike 'The Situation' Gets A Late Start On Dancing With The Stars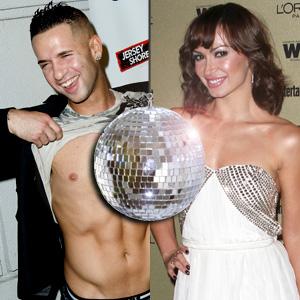 Mike 'The Situation' from Jersey Shore fame will be joining this season's cast of Dancing With the Stars, but RadarOnline.com has learned the reality star with the rock hard abs is apprehensive because he's off to a late start.
"He's a little nervous but really excited about the opportunity," said a close friend of the family. "He doesn't come from a dancing background, and wishes he could have gotten started with the rest of the dancers."
Article continues below advertisement
The new Dancing With the Stars cast began their rigorous dance schedules last week. They have already started learning their dance moves and working out.
"Mike is under contract with MTV and needs to finish in New Jersey before he heads out west," said our source.
EXCLUSIVE PHOTOS & DETAILS: Inside Jersey Shore's Season 3 Wrap Party
Jersey Shore will officially wrap up its third season on Labor Day and Mike will take two days off before heading to California for his round-the-clock dance practice.
"He's a really athletic guy and he's more than happy to take the challenge" said a friend. "He's thrilled to be part of the show and can't wait to work with his dance partner, Karina Smirnoff."
Dancing With the Stars' two hour premiere event will air on Monday, September 20th on ABC.
RELATED STORIES: