EXCLUSIVE: Lindsay Takes Self-Help Book to Rehab, Author Says He's 'Willing To Help'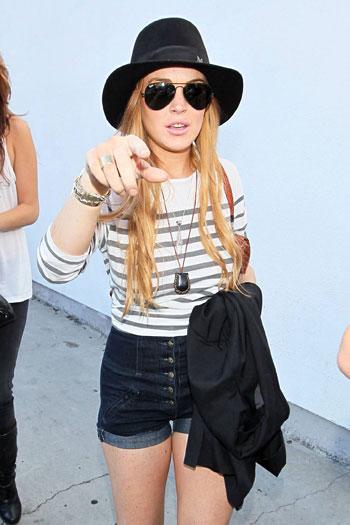 Lindsay Lohan posted bail just before midnight Friday night and spent the weekend resting at home before entering rehab on Tuesday. Now a source close to the actress tells RadarOnline.com exclusively, Lindsay didn't enter the rehab facility empty handed – she brought along a self-help book to teach her how to rest and aid in her recovery.
The Power of Rest: Why Sleep Alone Is Not Enough written by Dr. Matthew Edlund claims to be a 30 day step-by-step program to help you actively reset your body. RadarOnline.com spoke with Dr. Edlund about how he thinks Lindsay can benefit from his book.
Article continues below advertisement
"Lindsay has enormous performance pressure and that on top of alcohol and drugs causes her to have an inability to rest," said Dr. Edlund
"When people are drinking and doing drugs their body clock is off completely and that is why Lindsay can't sleep because cocaine changes your whole sleep pattern," added Dr. Edlund.
"That's how you get into the depressants-to-sleep and the stimulants-to-rise pattern that happens so often with celebrities. She seems to have gotten herself into that trap and this book can help her get out of it."
Lohan is working to make a change before her October 22 probation violation hearing that could end with the actress being sent back to jail for 30 days for failing a drug test.
"Lindsay needs something to create stability, and I have techniques in the book to help calm her down when she can't sleep, and wake her up when she's tired - of course without drugs."
Lohan has hopes to begin filming Inferno next month unless she is forced to return to jail and Dr. Edlund has faith she is up to the task.
Article continues below advertisement
"She is a young, very talented person and it doesn't matter what she has been through, there's a lot she can do to regenerate herself and start again in a healthier fashion."
"It's really hard to stay off drugs so she needs to be connected socially and to a higher power. As long as she is committed I would be willing to help," says Dr. Edlund.
Related Stories:
EXCLUSIVE: Lindsay Wouldn't Have Tested Positive If I Were In Her Life Says Michael Lohan