EXCLUSIVE: Julie Benz's Stylist Dishes On Her White Hot Emmy Look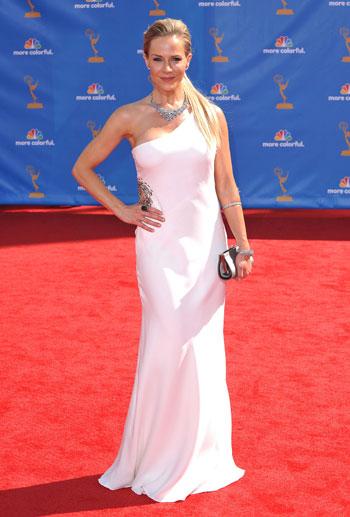 Julie Benz is one of our favorite glam gals in Hollywood, and turned heads at the Emmy Awards on Sunday with her white hot red carpet getup. RadarOnline.com spoke exclusively with the girl behind the No Ordinary Family (which hits ABC this Fall) star's stellar look -- celeb stylist Joey Tierney -- who explained how it all came together.
Joey has been working with the Dexter and Desperate Housewives star for exactly a year (the Emmys marked their anniversary!) and she has watched her red carpet presence transform and demand attention.
Article continues below advertisement
"We have a formula down of what looks good on her and what to stay away from," Tierney explains.
EXCLUSIVE VIDEO: In The Closet With Julie Benz
"When I saw this Pamela Roland dress, I knew it would be a hit," Joey exclaims of the one-shouldered white hot number that dropped jaws at the show.
"For me, the reason why this look was not just a hit but a major home run was the Jacob & Company jewelry."
Julie was lent over $1,000,000 in bling from the luxe jeweler -- just her necklace alone cost over $100,000!
"The jewels brought just the right amount of glam and shine to Julie's outfit without overdoing it. It gave her that effortlessly chic vibe that everyone is constantly looking for."
The actress got off on the right foot with her Brian Atwood peep-toe stilettos.
"Anytime we get Julie in these shoes she's happy because they're ultra sexy and high but still very comfortable."
In the end, getting Julie red carpet ready took a lot of teamwork.
"Julie has a really great team behind her and we all take each others input to create a cohesive look. If one of us wasn't on the same page it would have ruined the whole outfit!"
You can view Joey's work at www.joeytierney.com or her blog at www.hautestreet.com!