Exclusive
EXCLUSIVE INTERVIEW: 'Teen Mom' Farrah Reveals Her Biggest Fears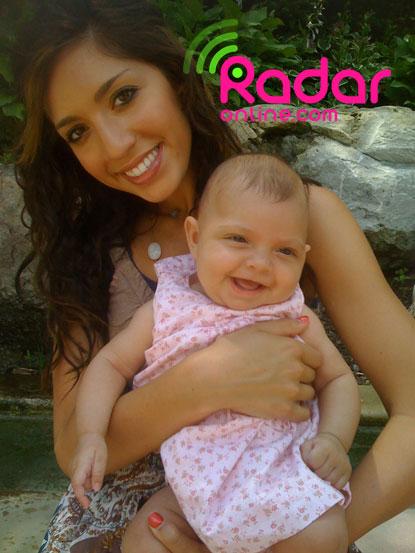 Farrah Abraham is one of the most talked about teen mom's in the country.
That's thanks to MTV, which has documented the 19-year-old's life, first on 16 & Pregnant and now on the hit show Teen Mom, bringing viewers a clear look at the challenges faced by the young mother.
In an exclusive new interview, Farrah told RadarOnline.com that being a teenage mom is nothing like what she had expected.
And in our question and answer session, she revealed her biggest hopes and fears as well as giving us insight into other areas of her life.
Article continues below advertisement
Here's our exclusive interview:
Radar: What is the most difficult part of being a teen mom?
Farrah: Going to school full time, having a job, and being a great mom.
Radar: What do you miss most about your life before the baby?
Farrah: All the spare time I had.
Radar: What has been the most rewarding part of having a baby?
Farrah: All the Love I feel, even when I feel all alone, I still feel the love.
Radar: What are the most important things you have learned from this?
Farrah: Not to take anything for granted, work and try your hardest.
VIDEO: Teen Mom's Catelynn & Mother Brawl Over Putting Baby Up For Adoption
Radar: What is your advice to other teen moms, or to teens in general?
Farrah: To make sure you live up to your personal expectations, being a great parent for your children and not ever giving up the dreams that you had before having a child.
Article continues below advertisement
Radar: What are your biggest fears? What are your biggest hopes and dreams for the future?
Farrah: Biggest Fears: Unexpected death. Anything happening to me or Sophia. Hopes and Dreams: To complete my Associates Degree in Culinary Management, to write a book about my experiences as a teen mom, and to open a restaurant in the near future.
VIDEO: 16 & Pregnant's Kailyn and Joe Face The Parenthood Facts
Radar: Has the show helped you get perspective on this entire experience / what's the biggest thing you've learned from seeing yourself on TV?
Farrah: All through Sophia, how to be there and change myself, and how to be a good parent. I am very happy I got this opportunity and it has helped me out a lot in my situation.
EXCLUSIVE VIDEO BLOG: 16 And Pregnant Star Tried To Hide Her Baby Bump
Article continues below advertisement