Exclusive
EXCLUSIVE INTERVIEW: Gabourey Sidibe's Mom Offered 'Lucrative' Singing Deal, Getting The Band Together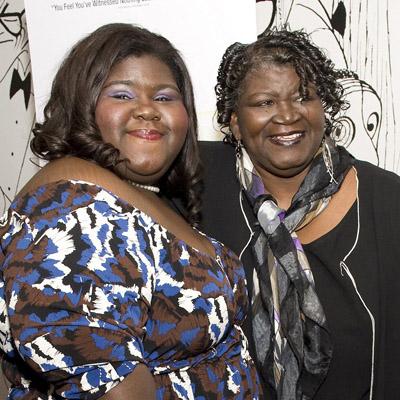 New York Subway singer Alice Tan Ridley has received a 'lucrative offer' to perform privately at a celebrity wedding later this month, RadarOnline.com can reveal.
Ridley - who's the mother of Oscar nominated Precious star Gabourey Sidibe - was recently voted off America's Got Talent after she failed to make the cut as one of the viewer's favorites.
Watch Alice Tan Ridley Perform
But the exposure on national television has presented Ridley with some exciting new projects including the mystery wedding later this month.
Article continues below advertisement
In an exclusive interview with RadarOnline.com, Ridley says, "I will be singing privately at a celebrity wedding on an island off Puerto Rico and the Dominican Republic which I'm really excited about.
"I cannot say who it is but it will be fun to sing for them on their special day."
But that isn't all the singer has on her 'to do" list - this lady is making things happen for herself!
In addition to the celebrity wedding, Ridley is in the process of forming her own band and hopes to perform blues and gospel music around the country.
"Hopefully, the band will be ready soon," she says. "I'm looking to work with musicians that I have known for many years."
Ridley was booked on America's Got Talent by producers that were hoping she would become a U.S. version of worldwide sensation Susan Boyle.
And just like the Scottish performer, Ridley has endured a few knocks in her life but still showcased her amazing singing voice to millions of television viewers through America's Got Talent.
Article continues below advertisement
Sadly, she didn't make the cut.
EXCLUSIVE INTERVIEW: Precious Star Gabourey Sidibe's Mom Confident She Can Win Talent Show
"I really enjoyed America's Got Talent but wasn't surprised that I got voted off as I'm a 57 year-old woman and the winner will probably be a lot younger than me as this is America baby!
"I never got any feedback from any of the judges Piers, Sharon, Howie or Nick because after I was voted off I just left the show - but they were always really supportive of me during the competition.
And after she was voted off the show, Ridley says her famous daughter called to offer her support as well.
"Gabby called me after the show to make sure that I was okay," she says. "I know that all my family was proud of me, so, that was a good feeling."
Ridley is taking a break from appearing on the New York subway for the time being, and is looking forward to what the future has in store for her.
RELATED STORIES: