Exclusive
PHOTOS: How Katy Perry Makes Curves Sexy!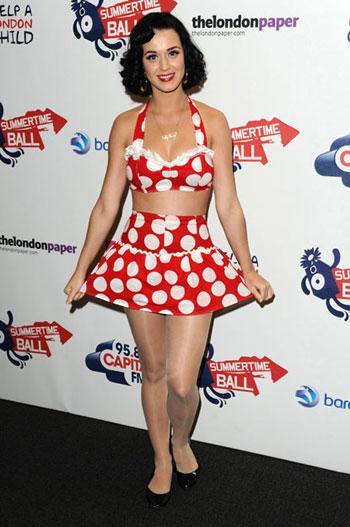 Katy Perry definitely isn't your cookie-cutter celebrity. In a sea of skinny singers and starlets, the sassy singer is famous for her catchy tunes -- as well as her 1950's pinup girl figure. How does the brunette bombshell make her curves work for her? RadarOnline.com consulted Jeannie Mai, Host of The Style Network's How Do I Look to weigh in on how Katy's setting the body image curve!
"Looks like we're all making trips to the dentist, now that Katy Perry shows us how candy does this California Gurl good," exclaims Mai, referring to one of the stars favorite treats.
Article continues below advertisement
But Katy's curves definitely don't get sculpted without a little cardio and some dumbbell weights!
"This sweet thang is definitely working off all those goodies by shaking her bonbons at the gym any chance she gets!"
Whether dressed in skintight and sassy Syren latex dresses, decorated in cookies and palm trees, or performing onstage in bustiers and corsets, Katy isn't afraid of body-baring clothes.
"Katy's curves are dangerously delicious, and my favorite part is, is that she is not afraid to show them off by wearing mouth-watering dresses!"
How does she make sure too look sassy and classy instead of trashy? Though she does favors skintight dresses and skimpy costumes, she never shows too much skin. If she wears a bralet or crop top, she always pairs it with high-waisted bottoms.
"She knows how to cinch the areas that matter, which for her is that itty bitty waist. She also takes any opportunity to enhance her long legs with daisy dukes or high arched heels."