David Letterman Extortionist Released From Prison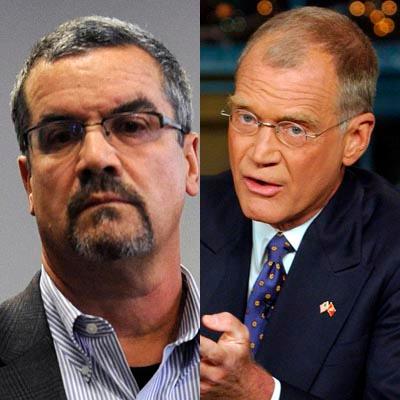 Ex-CBS news producer Robert J. Halderman was released from prison in New York Thursday, RadarOnline.com has learned, after serving four months in connection with his admitted $2 million extortion attempt aimed at late night funnyman David Letterman last fall.
According to prison records, Halderman left the facility two months early because of good behavior, though he's still due to perform 1,000 of community service, in which he'll teach once-homeless people and newly-released convicts job skills.
Article continues below advertisement
Halderman, an ex-48 Hours producer, pleaded guilty in March to charges of attempted grand larceny.
VIDEO: David Letterman On Rebuilding His Marriage; Says Affair "Was Stupid Behavior"
The brouhaha went public when Letterman said on his October 1, 2009 broadcast that he'd given testimony before a grand jury that day about Halderman's scheme to expose an extramarital affair Letterman had with a staffer who was Halderman's girlfriend.
Letterman told his audience that night, "I have had sex with women who work for me on this show."
Letterman subsequently said in an appearance on Live with Regis and Kelly in April that the affair "was stupid behavior ... you take a look at the explosion, and it knocks you down and you wake up every morning and you're scared and you're depressed and sad, and you kind of got to let that knock you down and knock you down."