The Bachelorette's Ali Fedotowsky Hired By Fox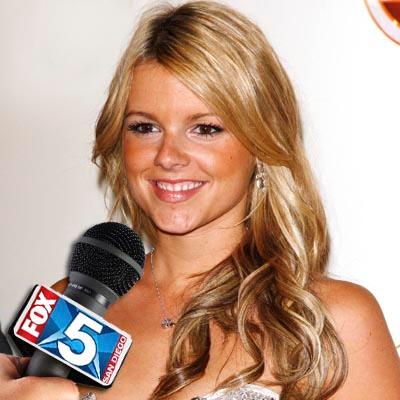 First, the Bachelorette's Ali Fedotowsky found love; now, she's found a new career -- in broadcasting.
The 25-year-old blonde beauty announced on her Twitter page that she's signed on to be an on-air talent for San Diego's Fox affiliate.
EXCLUSIVE: 'Bachelorette' Ali Was 15 When Topless Photo Taken
"Thrilled to be a part of the Fox 5 San Diego news team! My 1st segment is Monday morning. Love being involved with the community this way," Fedotowsky Tweeted Thursday. "I'm excited! ... I think it will be a lot of fun. I am so excited to be a part of the fox5sandiego family."
Article continues below advertisement
Fedotowsky previously worked as an ad exec for Facebook prior to getting into the reality TV spectrum.
Fedotowsky lives with her hunky choice on The Bachelorette, Roberto Martinez, in San Diego. They're planning on getting married next year.