AUDIO: Jennifer Grey: I Feel Patrick Swayze's Presence Right Now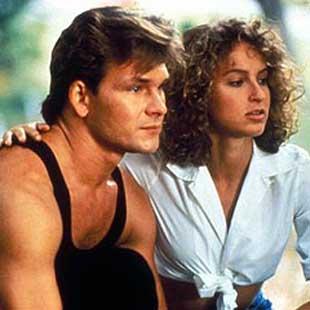 Dirty Dancing's Jennifer Grey told Ryan Seacrest's KIIS-FM radio show Monday that she feels the presence of her co-star in the iconic romance film, the late Patrick Swayze, "very strongly" as she embarks on her first week of the eleventh season of ABC's Dancing With The Stars, where she'll be partnered up with Derek Hough.
Hear the audio on RadarOnline.com
Grey, 50, said she received an e-mail from Swayze's widow Lisa Niemi last week wishing her luck and letting her know she'll be rooting her on in the competition.
Article continues below advertisement
"I was very moved by that and very happy and I feel his presence right now -- very strongly," Grey said, noting that last week was the first anniversary of Swayze's death (September 14, 2009) at 57 from pancreatic cancer.
Earlier on the show, Seacrest said that Grey told him that she sees similarities in Hough's spirit to Swayze's, noting the both have a very "animalistic, go for it attitude."
Grey said that she's not feeling to much pressure to succeed.
MORE ON:
Dancing With the Stars
"When you think of all the things that people go for in life that are really scary -- this is a dance competition," she said. "I think when you chunk it up like that, anything's doable."
Dancing With The Stars' eleventh season premieres on ABC at 8/7c.