AMAZING VIDEO: Carrie 'The Dancing Dog' Becomes Web Sensation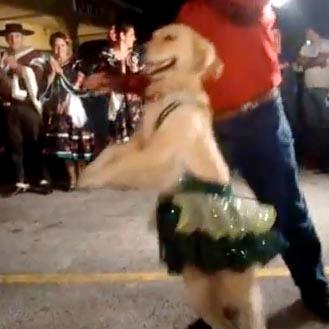 From Pants On the Ground to the Antoine Dodson Bed Intruder remix to the Old Spice guy, this year's viral videos have been especially innovative, grabbing the eyeballs of millions upon millions of Web browsers who revel in the bizarre and unexpected.
Meet the newest big name on the viral block: Carrie the merengue-dancing dog.
Watch the video on RadarOnline.com
Trained by her partner/owner, José Fuentes, the golden retriever's show of impeccable timing, stage presence and excellent balance while dancing the merengue has racked up 4 million YouTube views in less than two weeks' time, making her the latest instant online celebrity.
Article continues below advertisement
Harapeno, the YouTube user who posted the video, has even higher expectations for the talented pooch.
"I want to try and get Carrie and Jose on Dancing With The Stars," the YouTube user wrote. "I think we should all email ABC to see if they will take them. Send them a note at either their FB page or the ABC website!"