VIDEO: Roger Federer's Amazing Trick Shot!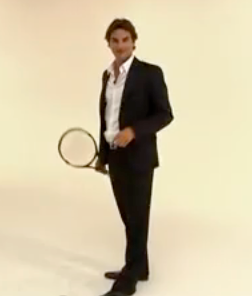 Is it real or fake?
That's the Internet buzz currently surrounding tennis ace Roger Federer's amazing 'William Tell style' trick shot.
Watch the video on RadarOnline.com
So, RadarOnline.com would like you to judge as the world's top player is seen smashing a metal can off a man's head, not once, but twice with a serve while shooting a commercial for Gillette.
The tennis superstar won't reveal if it is the real deal, but with his amazingly accurate 100 mph serve - who knows?
Article continues below advertisement
His official website carried a link to the commercial which is a tribute to the tale of William Tell, the Swiss legend who used a bow and arrow to split an apple on his son's head.
Following his opening match at the Cincinnati Masters on Wednesday night, Federer was asked directly whether the video is real.
'Not saying that,' the champion from Switzerland replied.
He then told the fan: "A magician doesn't tell how his tricks work."