To Trend Or Not To Trend: Best And Worst Wednesday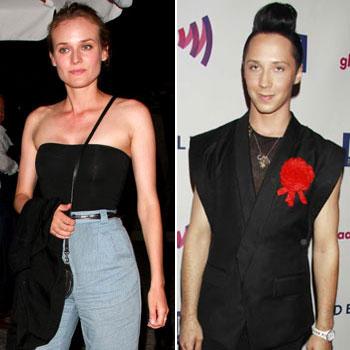 Why should girls have all the fun with the Snooki pouf hair trend? Johnny Weir jumped on the Jersey Shore beauty bandwagon on Tuesday night, showing up for the GLAAD Manhattan Summer Rooftop Event in NYC with a brand new 'do don't! The funky fashioned Olympian definitely stood out in the Housewife-filled crowd, wearing a nylon sheer shirt under a red-corsaged black vest, black skinny pants and patent leather oxfords, proudly sporting the reality show stars trademark tresses.
Article continues below advertisement
Diane Kruger looked sensationally summer, pulling off the difficult high-waisted pant look. The gorgeous actress paired her blue chambray clamdiggers with a tight tube top, finishing the look off with a skinny belt and ballet flats for dinner with her Dawson's Creek beau.
Charisma Carpenter has graduated from her Buffy days, and is ready for leading lady status. The bombshell brunette hit the red carpet premiere of The Expendables, looking white hot in a dramatic halter, which impeccably draped across her slender figure.
Courtney Love looked like a rebellious teenager at at Russell Simmons' ARGYLECULTURE Fall 2010 Menswear Presentation in NYC, while Taylor Momsen was one, fully exposing her midriff at the Material Girl launch.
Who else rocked and shocked? Check out the gallery in Style to find out.