Teenage Dream Girl Katy Perry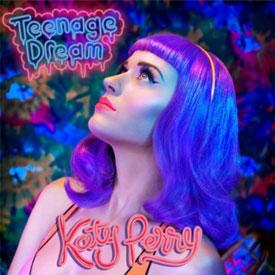 The wait is over. Today Katy Perry releases Teenage Dream, her sophomore album that features mega-hit California Gurls featuring Snoop Dogg and the second single, Teenage Dream. The album is exactly what it's sold as: sugary sweet pop songs with lyrics about all things high school. It's certainly fun, but there are too many silly throwaway tracks. It's easy to forget that Perry, with all her cutesiness, isn't an adolescent, but rather 25-years-old and engaged to be married. Her wink-wink gimmick is getting rather tiresome. The real low on the album is Peacock on which she sings, "I wanna see your peacock, cock, cock/Don't be a chicken boy/ Stop acting like a bee-yatch." Say what, Katy? And though she attempts a few serious tracks, like Circle the Drain, an ode to an addicted lover, and the ballad The One That Got Away, she ultimately falls short. Sadly, just like Katy's relationship with Russell Brand, we have a hunch her career won't go the distance...
Article continues below advertisement
Fantasia's new album is Back to Me and it features the work of big names like Ne-Yo and Cee-Lo...
Little Big Town releases The Reason Why...
Usher's Versus includes guest appearances from Jay-Z, Justin Bieber and Pitbull...
Dear New Orleans… is a 31-song digital benefit compilation featuring My Morning Jacket, OK Go, Indigo Girls and Steve Earle...
Antony and the Johnsons release the five-song EP Thank You Your Love...
Isobel Campbell and Mark Lanegan offer up Hawk, which features guests James Iha and Willy Mason...
Special Moves is the latest from Mogwai...
chk chk chk's new album is Strange Weather Isn't It...
Zombie is the new EP by The Devil Wears Prada...
Eels are back with Tomorrow Morning on vinyl...
Rick Skaggs' Mosaic features a guest appearance by Peter Frampton...