Take Your Hats Off For Best And Worst Fashion Friday!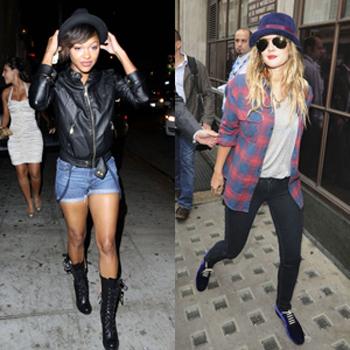 Hip to horrible headwear was the theme for Hollywood stars this week as many celebs added hats to their fashion itinerary.
The Unborn star Meagan Good bowled us over with a perfectly-perched bowler hat that added a sense of class to her leather jacket and laced boots look.
Unfortunately, Drew Barrymore's blue velvet and purple ribbon bowler looked like one of the Mad Hatter's cast-offs. 
Madonna's motley muddle of clothes wasn't helped by her grey bowler hat, but luckily she was only holding it and didn't get around to throwing the unnecessary accessory on her head.
Article continues below advertisement
In other style hits and misses, Mel B induces migraines with her vibrantly colored dress and Stephanie Pratt and Nicky Hilton jump around in cute short suits.
Check out all the looks – good and bad – in our Best And Worst style gallery!