Stylish AND Fantastic Sound: Lady Gaga "Heartbeats" Headphones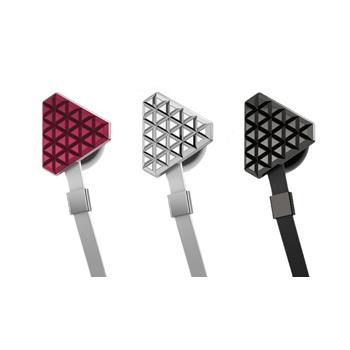 We wouldn't expect the flamboyant singer to wear just any old headphones. True to form, the Pop star designed her own audio jewels with Dr. Dre's Diddybeats, to create headphones called "Heartbeats" that look as good as they sound.
Designed to look like jewels, the Lady says they celebrate the "art and lifestyle of music."
"In the deepest hour of the night, I confess to myself three things; I would die if I was forbidden to write, forbidden to love, or forbidden to fashion," Lady Gaga said. "Heartbeats embody the trinity of my human being, with one additional vow: that sound matters. Wear Heartbeats, love each other, and celebrate the art and lifestyle of music."
Article continues below advertisement
The Heartbeats headphones come in three designs (chrome, all black and jewel-shape earpiece), but we like the brilliant red.
Though the audio is the most important factor for us in choosing headphones, we knew that since they were made by Dr. Dre and Monster they would be high-fidelity. The large-efficency drivers can play loud without any distortion, and the highs come in as clearly as the bass lows. Like all the Diddybeats, there is a ControlTalk for on-cable iPod and iPhone playback control and a built-in mic for iPhone/music phone hands-free calling. And the innovative flat cable doesn't tangle .
Now you can hear "Poker Face" exactly the way Lady Gaga intended.
By Evan Hosie