STYLE RADAR: Best, Worst & Wackiest Fashions Of The Week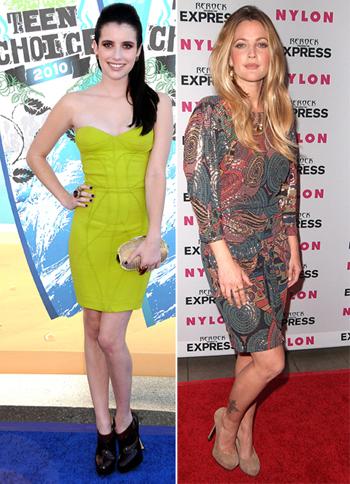 From the star-studded red carpet of the 2010 Teen Choice Awards, to the chic streets of NYC, stars sizzled in fizzled in the Best, Worst & Wackiest fashions this week.
Though we witnessed several victories a la mode, the Best Look of the Week has to be awarded to blonde bombshell Drew Barrymore, who celebrated her Nylon magazine September cover girl status in truly flawless fashion. Rocking Yves Saint Laurent Trib Two heels with a paisley print vintage frock, the Going the Distance diva has seriously never looked better!
Article continues below advertisement
Julia Roberts was in sophisticated but sexy style at the NYC premiere of Eat Pray Love, pairing a Stella McCartney blazer with Diane von Furstenberg shorts and Roger Vivier heels, but her niece wasn't as fashionably fortunate at the Teen Choice Awards on Sunday!
Little Emma Roberts didn't quite have us green with envy, wearing a brightly hued strapless mini, which totally washed her out. While we love bright colors, it is better to pair them with a fake tan!
Leighton Meester was true to her Gossip Girl character at the teen-oriented awards show, looking tres Blair in an impeccably embroidered white Emilio Pucci mini and Christian Louboutin heels.
Steven Tyler failed to rock our world, performing onstage with Aerosmith in embellished sneakers, while Rihanna's bright red hair totally clashed with
her tie-dye Proenza Schouler frock in NYC.
Who else topped and flopped on our weekly list?
Check out the gallery in Style and find out.