Julia Roberts' America's Sweetheart To Screen Goddess Style Evolution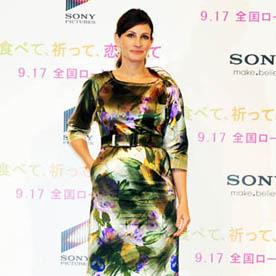 Oscar winner Julia Roberts has been at the top of Hollywood's best dressed lists longer than many of her fans have been alive!
After 21 years in the spotlight, America's Sweetheart is still wowing fans and fashion critics alike with her classic sense of style and natural beauty.
Since bursting onto the scene in 1988 in the romantic comedy Mystic Pizza, Julia, 42, has evolved from the fresh-faced redheaded America's Sweetheart to a box office queen, Oscar winner and even a wife and mother.
Article continues below advertisement
There have certainly been some bumps in the style road – and on the red carpet! – with bad color jobs turning her into a brassy blonde, or floral dresses making her grandmotherly and frumpy, but Julia has since molded her own classic signature style that's adored across the world.
Often pairing fitted jackets with pants or designer dresses, the Pretty Woman star always looks immaculately put together and comfortable with her look. She recently injected some sexy spice into her love of suits, flashing lots of leg in Diane von Furstenberg shorts.
Currently traveling the world on a whirlwind tour promoting Eat, Pray, Love, Julia has unveiled a new, exciting outfit wherever she goes.
How has Roberts' wardrobe changed over the decades? Check out our gallery in Style and see!