Stars Sizzle And Fizzle In The Best And Worst Of End-Of-Summer Fashions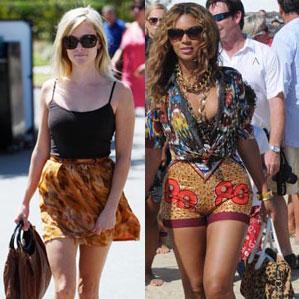 Summer is almost over, and stars are scurrying to wear this season's scorching hot fashions before it is time to replace their embellished sandals with thigh-high boots! Reese Witherspoon was flawlessly fashioned for the sizzling Los Angeles afternoon on Tuesday, stepping out near her home in Brentwood wearing a gorgeously hued, watercolor mini with a skintight spaghetti-strapped tank, embellished sandals, oversized shades and toting a luxe brown bag. So chic, Reese!
Article continues below advertisement
Meanwhile in St. Tropez, Beyonce made a splash -- in totally clashing duds. It seemed that the bombshell couldn't decide what pattern she wanted to wear, so she decided to rock them all!
Maria Sharapova didn't hit a grandslam with her getup, sporting a headless baby t-shirt with 3.1 Phillip Lim shorts at an Evian event in NYC, while Katy Perry lived up to her Teenage Dream status on The Late Show with David Letterman in a truly fem Zuhair Murad cocktail frock.
Lauren Conrad beat the heat in chic style, pairing a billowy striped Blue Moon Cape Cool top ($94) with cutoff shorts and her fave Miu Miu satchel and aviator shades, as did Christina Applegate, covering up her baby bump in a chic maxi dress.
Who else sizzled and fizzled in their end of summer duds? Check out the gallery in Style and find out.