Star Style Spree: Eva Mendes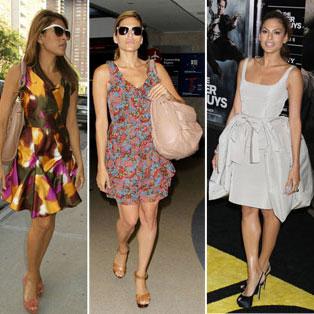 Over the past month, Eva Mendes has been on a sensational style spree, on and off the red carpet. The sexy star of The Other Guys, which hits the big screen on Friday, knows how to look sexy, whether she is sporting jeans and a t-shirt or a glamorous getup hot off the runway of Paris Fashion Week. What is her style secret?
Eva has a fabulously feminine body and she knows how to pick out clothes, which flatter her figure. Avoiding loose-fitting frocks and maxi-dresses helps to accentuate her tiny waist, while short hemlines show off her luscious legs.
Article continues below advertisement
Though she has rocked uber-expensive dresses from Oscar de la Renta, Vivienne Westwood and Christian Dior this month, Eva doesn't always opt for wallet-busting wear. Just this week we spotted her looking casually chic in a Madewell floral mini, which retails for $168.
What was her best look? Check out the gallery in Style and let us know what you think.