Rock On! The Most Outrageous Stage Outifts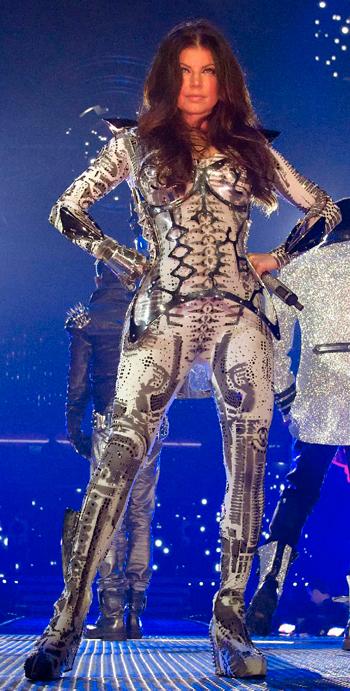 From sky high platforms to feathered headdresses, a stadium concert date is an excuse to dress even wackier than on Halloween for these singing stars.
Pint-sized Fergie uses the big stage as an excuse to add a few inches to her height in 70s style platform boots – not to mention the silver space age jumpsuit and mile-wide shoulder pads. The Black Eyed Peas singer's shiny one-piece reminds us of Elton John strutting the around the stage in his prime, all she needs is a piano and a pair of huge sunglasses!
Article continues below advertisement
Whether on the red carpet or walking down the street, Rihanna always turns heads with her unique style choices but the R&B diva really steps it up a notch she performs. During a raunchy show at Madison Square Garden on August 12, her black latex leggings and leotard were so tight they look they had been painted.
Even Justin Bieber is getting in on the act, turning tween fans into screaming messes with top-to-toe white outfits and purple ski boots as he screams at the crowd.
Check out the pop world's weirdest wardrobe choices in our style gallery!