Reality Show Stars Sizzle In Sexy Style At TCA Cocktail Reception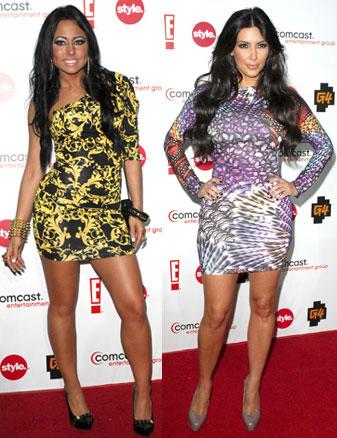 It was all about hiked up hemlines and super tight dresses at the Comcast Entertainment Group¹s Summer TCA Cocktail party on Friday night, where super
sexy reality show starlets showed off their hot bods in sizzling summer fashions.
Our favorite look of the night came from Jerseylicious doll Olivia Bloise, who rocked a super sensational black and gold, one-sleeved mini with black platforms and an abundance of chunky jewels. The dark haired vixen was in town for the day with her costar Tracy Dimarco, who showed off her curves in a skintight embellished mini and strappy platforms.
Article continues below advertisement
Kim Kardashian was clad in an out-of-character, wildly patterned mini dress, while Kourtney showed off her post-preggers bod in a nude sweetheart strapless.
Which reality babe looked the hottest?
Check out the gallery in Style and let us know what you think.