PHOTOS: 'I See Dead People' - Justin Bieber Shoots Cameo For CSI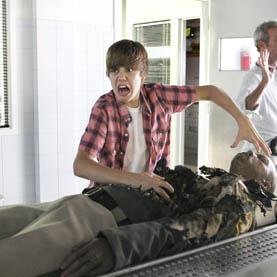 Millions of albums sold, a biographical movie in the works, the most-viewed YouTube video in the universe and now, a cameo on a hot TV show: Let's face it -- 2010 is the Year of the Bieber.
Yes, our boy Justin got himself a cameo on CBS's crime drama CSI, and RadarOnline.com has the pics for you from the set of the show, where the doe-eyed 16-year-old showed off his dark side playing a troubled teen.
Article continues below advertisement
"He did a really good job," executive producer Carol Mendelsohn told USA Today of the Baby, Baby singer's performance in the episode, which was shot July 23 in Los Angeles.
Bieber, who will star in a 3-D movie about his life due out next year, got more good news this week in the form of an MTV Video Music Awards nomination.
"Just found I was nominated for Best New Artist at the VMA's! WOW!! I remember walking the red carpet last year and no one knew my name," he Tweeted.
The 2010 Video Music Awards will air live on MTV September 12 at 9/8c, while Bieber's CSI episode airs September 23 on CBS.