PHOTOS: More Nunsense From Lady Gaga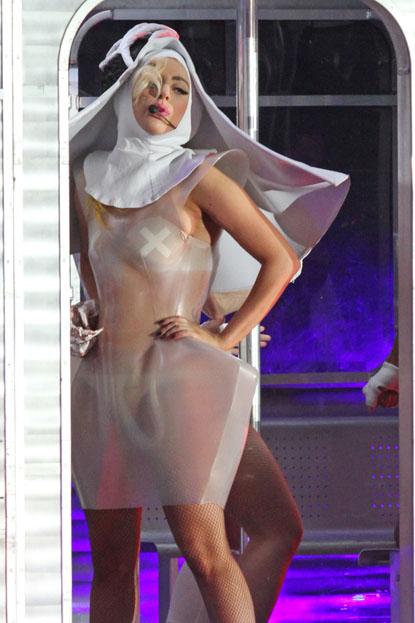 She's no saint, but a nun?
Lady Gaga donned an outrageous nun get-up during her show at Washington's sold-out Tacoma Dome Sunday night, and RadarOnline.com has all the pictures for you.
The Catholic school graduate has not been shy about using religious iconography in her work, as she donned a latex nun's habit in her video for Alejandro, in which she also makes suggestive gestures with a crucifix, and implies she's having an orgy with her crew of beefcake dancers.
Article continues below advertisement
The 24-year-old New Yorker's shot to stardom has been unprecedented: Little-known just two years ago, her video for the song Bad Romance is the second-most viewed YouTube video ever with 266 million views (teen idol Justin Bieber's Baby has 296 million).