PHOTOS: Ke$ha Reveals Her Wildest Look Ever!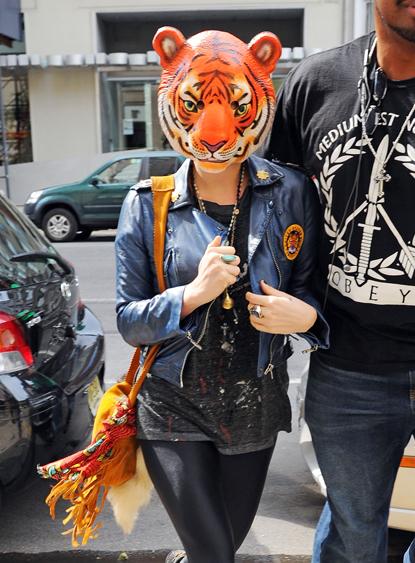 When most stars cover their faces they want to distract attention away from themselves, but Ke$ha made sure all eyes were firmly on her when she left her hotel wearing a tiger mask on Tuesday.
From a native Indian headdress to ripped, patterned fishnets with hot pants, Ke$ha has worn some increasingly outrageous outfits recently but this is her wildest yet!
She nonchalantly strolled out past confused eye witnesses on a busy New York street with her huge bodyguard wearing a cheap plastic orange tiger mask, with her leggings, leather jacket and boots as if it were normal fashion accessory.
Article continues below advertisement
The crazy singer appears to be in a battle of bad fashion with pop rival Lady Gaga as the pair pull out one bizarre ensemble after another.
The TiK ToK singer has described her scruffy style as "garbage chic" but we think this crazy look should be left in the jungle.