PHOTOS: Gwen Stefani Spends Time With Her Beach Boys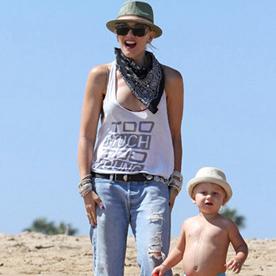 Donning a tank top with the words "Too Much Too Soon," Gwen Stefani took her two sons for an afternoon filled with life's simpler pleasures.
The super star mom took Zuma and Kingston for a sun-filled day in Newport Beach, Calif., over the weekend.
Kingston didn't hesitate getting his hands dirty, diving right into the wet sand (with some of it ending up on his face!) while his brother kept close to their mom.
Article continues below advertisement
Zuma, looking stylish in colorful shorts and a straw hat, held on tight to Gwen as she walked him along the shore. The only thing missing to the perfect day was dad Gavin Rossdale.