PHOTO: Kim Kardashian's Little Sisters - 13 Going On 30?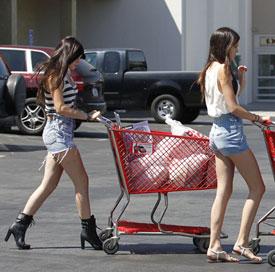 Kim Kardashian's little sisters are growing up quickly - perhaps too quickly.
Kendall, 14, and Kylie, 13, both wearing short shorts and looking far older than their tender young ages, were snapped Wednesday outside an Office Depot in Los Angeles doing some back-to-school shopping with mom Kris Jenner. (Dad is Bruce Jenner)
As RadarOnline.com has previously reported, both girls have recently embarked on modeling careers. In fact, Kendall (pictured wearing the white shirt) recently raised a few eyebrows when she posed in a racy bikini spread.
Article continues below advertisement
Despite some criticism that the Jenner girls are growing up too fast, big sister Kim recently said she thinks her sibling's success so early is a good thing.
Wrote Kim on her blog, "I am so proud of Kendall. She's going to take over the modeling world... you just watch!"
What do you think? Are Kendall & Kylie growing up too quickly? Write your comments below!