Pee Wee Herman Has A Handy Excuse For His Adult Theater Arrest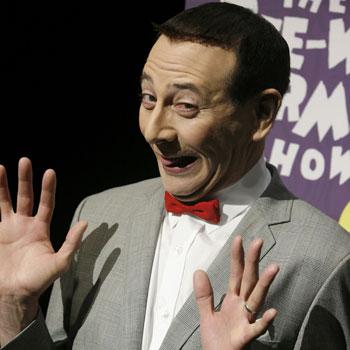 Nineteen years after being arrested on indecent exposure charges in an adult theater, Paul Reubens is publicly handing out what he says is definitive proof that he was not guilty.
Police said that Reubens was masturbating in an adult theater in Sarasota, Florida. The actor's career as Pee-Wee Herman was soaring at the time and he eventually pled no contest to avoid trial.
But in a new Playboy interview Reubens reveals for the first time how he would have proved his innocence at trial.
Article continues below advertisement
"Had we gone to trial, we had ready an expert from the Masters and Johnson Institute who was going to testify that in 30 years of research on masturbation the institute had never found one person who masturbated with his or her nondominant hand," Reubens tells Playboy.
Andy Dick's Bizarre Sexual Abuse Arrest
"I'm right-handed, and the police report said I was jerking off with my left hand. That would have been the end of the case right there, proof it couldn't have been me."
Reubens also talks about the disproportionate media attention his arrest received.
"Keep in mind I got arrested at the same time the serial killer Jeffrey Dahmer's story was breaking – and yet my story led the news for five days in a row," he tells Playboy.
What really hurt, he says, is being the butt of jokes from show biz colleagues who he thought were friends.
"I turned on the TV and saw people I mistakenly and naively thought were my friends making jokes about me. That was really painful. I knew Arsenio Hall, and his guests were Patti LaBelle and Luther Vandross, who were also my friends," Reubens says.
"I was just sitting there going, Oh, they're making jokes about me. I turned the channel to Jay Leno, who was also saying some snarky things. I get that it's their job, but I had already said the allegations weren't true and felt I deserved the benefit of the doubt from them."