PawsOFF!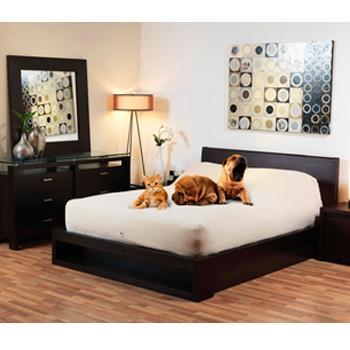 Why didn't someone think of this earlier? PawsOFF, is a unique line of stylish Protective Bed Covers to protect beds against pet wear & tear and keep your bed looking like you left it. Our three doxies LOVE our king-size bed and sleep on it all day. When we come home it looks like a typhoon hit it.
The PawsOFF Protective Bed Cover fits overtop all pillows, linens and comforter so your bed is protected from your pet's germs, dirt, fur, slobber, odor, rips and stains, not to mention the ripped up toy dogs. It's easy to put on and just as easy to remove at night.
Article continues below advertisement
Here's what you need to know:
·        Is Machine washable
·        Helps control pet-related allergies
·        Is made from an ultra thick and durable 100% high grade multi-fiber polyester fleece to withstand digging and clawing
·        Protects owners beds from fur, stains, germs, odors and rips
·        Has fitted corners that give the cover a snug fit and four elastic garters that ensures the cover stays on the bed no matter how much digging, biting and pulling pets dish out
·        Is available in all standard mattress sizes: Twin, Double/full, Queen and king and come in three neutral colors that match any decor: Sand (beige), Chocolate (dark brown), Charcoal (dark grey)
·        Is super affordable with pricing as low as $29.99 for twin, $39.99 for double/full, $49.99 for queen, and $59.99 for king
The following celebs just received them in their HollyWOOF Package: Kate Beckinsale, Denise Richards, Hilary Duff, Jessica Biel and Justin Timberlake, Miley Cyrus and many more!
Best of all, your pups will love it.
For more info check out Paws Off.