Oh Lourdes! Madonna's Daughter Creates A Buzz With Her Wristband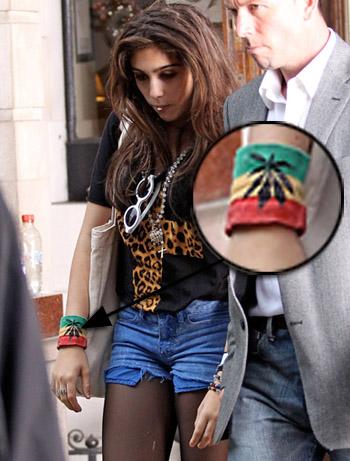 She's only 13 years old but Madonna's daughter Lourdes is already creating a buzz.
As you can see in these RadarOnline.com photos, the Material Girl daughter's fashion sense includes a wristband adorned with what appears to be a marijuana leaf.
Madonna launched Material Girl, a new clothing line for teenagers, with Lourdes, who goes by the nickname Lola.
The fashion line was unveiled at Macy's this month. Sequined hot pants and lace minidresses are part of the items featured. The clothing is part of a trend that has been criticized as being too sensual for teenage girls.
Article continues below advertisement
And while Lola has her own blog and expresses a fondness for all things 80s and notes My Chemical Romance as a fav band, there's no word if her famous mom is smoking mad over her latest fashion choice.