New Music Releases: Arcade Fire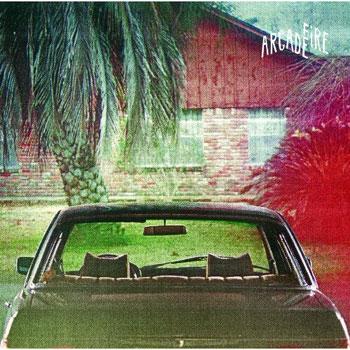 The Win Butler-led, seven-member Canadian band Arcade Fire is back with their third album to date, The Suburbs, which took three years to make and finds inspiration in Springsteen-esque American rock and '80s New Wave beats, along with the hopeless romance that comes with adolescence. "In high school I had a letter-writing romance with a girl," said Butler recently. "I was trying to remember that time…waiting an entire summer, pretty much half a year, the anxiousness of waiting for letters to arrive. All day every day there's almost this cloud of feeling hanging over everything."
Article continues below advertisement
NOW That's What I Call Music! 76 features songs by Katy Perry, Enrique Iglesias, Usher, Kylie Minogue and more...
Autolux's Transit Transit is the band's first album since its 2004 debut...
The Black Crowes release Croweology, a double album of acoustic material featuring their hits...
Buckcherry is back with All Nights Long...
Cabbage is the new album by Gaelic Storm...
JLS is an English quartet that won the 2008 edition of The X Factor and now they're releasing a self-titled six-song EP in the States...
Los Lobos' Tin Can Trust includes a cover of Grateful Dead's "West L.A. Fadeaway"...
The folksy guy-girl group The Magic Numbers return with The Runaway...
Katie Melua's latest effort The House was produced by William Orbit and the first single is entitled "The Flood"...
A Best of Us…For the Rest of Us features new versions of Reel Big Fish's fan favorites, plus a bonus 14-song acoustic disc...
Eighties mainstays Squeeze release Spot the Difference, which features new versions of 14 of their '70s and '80s hits...
Ryan Star, who was a contestant on Rock Star Supernova, has a new album called 11:59...