Mom A La Mode? Best And Worst Tuesday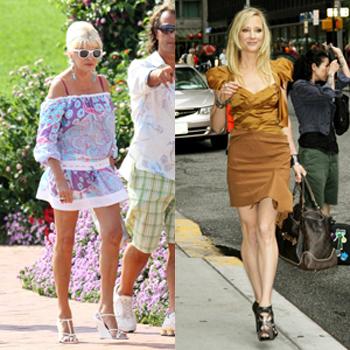 We are totally Hung up on Anne Heche's copper-toned look at The Late Show with David Letterman on Monday!  The haute mama, who stars on the hit HBO series, rocked a super sophisticated Zac Posen ensemble, which was perfectly hued for her light features.  We can't say we felt the same way about Ivana Trump's euro not-so-chic duds, though...
The seasoned beauty was spotted strolling around Sardinia, Italy with her younger beau, dressed in a colorful ensemble, which looked like it could have belonged to her daughter! Also dressing too young for her age on Monday was Pamela Bach, who stepped out to dinner in Los Angeles in a crazily patterned summer dress, finishing off the look with bright blue nail polish.
Article continues below advertisement
Katy Perry looked sugary sweet, wearing a pink cropped cardigan over a floral frock, while Michelle Rodriguez looked rock and roll in shredded denim and a form fitting motorcycle jacket for a night out in Los Angeles.
Find out who else scored and bored by checking out the gallery in Style!